Rimor SuperBrig 687TC 2005
Large fine homes for rent, with 2 double beds, as well as the opportunity for single bed
by spiseplass.Stor garage for bikes etc. 4 chairs and 1 table included in the rent. Run on regular sertfikat.
A brand new car. Complete alarm system, including general anesthesia alarm. DVD player with screen. Dual wheels make the car very stable to kjøre.Leies out to people over 25 years. It is not allowed pets or smoke.
Kr. 10000.00 per. week in high season. Weekend, hs kr. 4200.00.
In high season rented my car. on a weekly basis. Deposit and rental to be paid in advance. Deposit kr.6000, 00
Wash for rent kr. 1200.00
Free mileage and insurance. The deposit is usually preferred gas consumption, tolls, cleaning and any damages.
Available for div.utleie summer / autumn 2012. The first free week now, the week 33 Excellent car for families with children.
Information
Type of RV Alcove
The camper is in Norway
Brand Rimor
Model 687TC Superbra
Year 2005
Power 140 hp
Displacement 2.4 L
Manual transmission
Wheel Drift RWD
Kerb weight 3500 kg
Total weight 3500 kg
0 kg payload
Length 720 cm
Sleeps 5
Registered seating 5
equipment
refrigerator
automotive air conditioning
Fixed toilet
Car alarm
Airbag driver
Airbag passenger
Radio / CD
DVD
awning
Myggdør
smokeless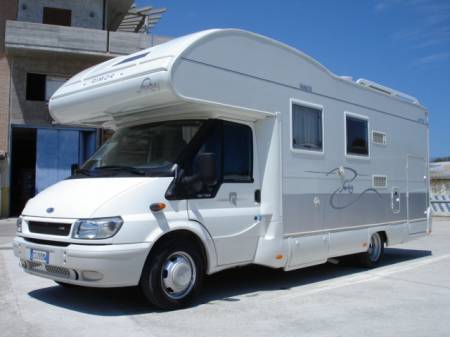 ---